Michael Rodríguez-Muñiz
Assistant Professor of Sociology and Latina/Latino Studies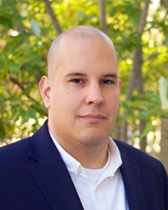 (847) 467-4139
1808 Chicago Ave, Room 103
Office Hours: By appointment; email michael.rodriguez@northwestern.edu
Area(s) of Interest
Sociology of Knowledge and Culture; Race, Ethnicity, and Panethnicity; Political Sociology; Science and Technology Studies; Qualitative and Ethnographic Methods
Biography
Michael Rodríguez-Muñiz was born and raised on the Northwest Side of Chicago. Prior to graduate school, he spent several years working as a community organizer in the Humboldt Park area. He received his PhD from Brown University, his MA from the University of Illinois-Chicago, and his BA from Northeastern Illinois University. Michael joined Northwestern's Department of Sociology and Latina/o Studies Program in 2016.

His first book, Figures of the Future: Latino Civil Rights and the Politics of Demographic Change, is forthcoming with Princeton University Press. This work is largely based on his dissertation, which received the 2016 American Sociological Association Dissertation Award. In addition, he has published on censuses, poverty knowledge, Latino identity formation, and the relationship between critical sociologies of race and science and technology studies. 
He is currently engaged in a collaborative interview-based project on the relationship between race and political trust in Chicago and the Bay Area. His next book project will explore the history of Puerto Rican anti-colonial radicalism, memory, and state repression in Chicago. This project involves the creation of a community-based archive.

He teaches courses on race and racial knowledge, qualitative/ethnographic methods, and Latino identity and politics, among others.
Courses Taught
SOCIOL 304: Politics of Racial Knowledge Syllabus
SOCIOL 329: Field Methods Syllabus
SOCIOL 376/Latinx Studies 392: Race, Knowledge, & Latinidad Syllabus
Selected Publications
Rodríguez-Muñiz, Michael. 2017. "Cultivating Consent: Nonstate Leaders and the Orchestration of State Legibility." American Journal of Sociology 123:385-425. http://www.journals.uchicago.edu/doi/full/10.1086/693045 
Graizbord, Diana, Michael Rodríguez-Muñiz, and Gianpaolo Baiocchi. 2017. "Expert for a Day: Theory and the Tailored Craft of Ethnography." 2016. Ethnography. Online. http://journals.sagepub.com/doi/pdf/10.1177/1466138116680007
Mora, Cristina G. and Michael Rodríguez-Muñiz. 2017. "Latinos, Race, and the American Future: A Response to Richard Alba's 'The Likely Persistence of a White Majority'." New Labor Forum 26:40–46. http://journals.sagepub.com/doi/abs/10.1177/1095796017700124?ai=1gvoi&mi=3ricys&af=R
Rodríguez-Muñiz, Michael. 2016. "Bridgework: STS, Sociology, and the 'Dark Matters' of Race." Engaging Science, Technology & Society 2: 214-226. http://estsjournal.org/article/view/74
Rodríguez-Muñiz, Michael. 2015. "Intellectual Inheritances: Cultural Diagnostics and the State of Poverty Knowledge." American Journal of Cultural Sociology 3: 89-122. http://link.springer.com/article/10.1057/ajcs.2014.16
Back to top