Renee Shelby
Sexualities Project at Northwestern (SPAN) Postdoctoral Fellow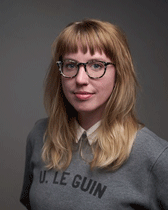 Biography
Renee Shelby (PhD, Georgia Institute of Technology) is jointly appointed in the Sociology Department and Legal Studies Program. She has research and teaching interests in feminist technology studies, law and inequality, and critical data studies.
Her current project, "Designing Justice: Sexual Violence, Technology, and Citizen-Activism" examines the potentials and limits of technology as a mediator of racial and gender justice. "Designing Justice" uncovers how dominant cultural ideas about race, gender, and sexuality shape the design and use of anti-violence technologies that reproduce conditions of inequity for survivors on the social and legal margins.
Renee's work appears in 
Feminist Media Studies, Theoretical Criminology
, and 
Engaging Science and Technology Studies
 among others.
Courses Taught
Sexuality, Technoscience, and the Law
Gender-Based Violence
Back to top