Gabriela Kirk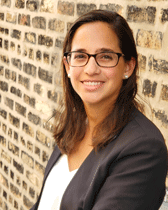 Advisor(s): Pattillo
Entry Cohort: Fall 2016
Area(s) of Interest
Sociology of Punishment, Cultural Sociology, Surveillance, Crime and Law, Urban Sociology, Science and Technology Studies
Biography
Gabriela Kirk is a Ph.D. Candidate in the Department of Sociology at Northwestern University. Her dissertation entitled "Can Electronic Monitoring Fix Mass Incarceration?: Understanding the Role of Electronic Monitoring in Local Policy Reform Efforts" explores the paradoxes in the use of electronic monitoring technology (house arrest) in the U.S. criminal legal system during the current reform movement centered on moving away from confinement. Focusing specifically on the role of county-level policy structures and decision-making, she uses a mixed method approach including quantitative analysis, in-depth interviewing, digital ethnography, and analyses of policy documents. Her findings detail how these technologies change the way system stakeholders conceptualize risk, punishment, surveillance, and the broader role of the criminal legal system. She finds that EM changes the temporal goals for stakeholders, shifting the focus to future crimes rather than to retribution for past offenses. This project builds off previous work Gabriela conducted on the experience of electronic home monitoring in Chicago as part of her master's thesis. This master's work has been published in Social Problems and Punishment and Society. Gabriela won the Best Graduate Student Paper Award in the Crime and Juvenile Delinquency Division of the Society for the Study of Social Problems for this published work.

Gabriela is also a Co-Investigator on an ongoing research collaboration with Dr. Brittany Friedman at the University of Southern California and Dr. April Fernandes at North Carolina State University on the use of civil lawsuits against incarcerated individuals to recoup the costs of their incarceration. This comparative project utilizes legislative and court documents in Illinois, Michigan, and Florida to understand the logics undergirding these practices and moral discourses that make such practices legally permissible. This work has been published in Sociological Perspectives and Sociological Forum. Additionally, Gabriela has worked closely with her advisor, Dr. Mary Pattillo, on research regarding the use of monetary sanctions in the court system. This work is part of an eight-state collaborative research project led by Dr. Alexes Harris at the University of Washington. Together and with their collaborators, this work has been published in the American Journal of Sociology, The Russell Sage Foundation: Journal of the Social Sciences, and the UCLA Criminal Justice Law Review.

Gabriela is a Graduate Fellow in Legal Studies and a Ruth D. Peterson Fellow. She also serves on the student editorial board of Sociological Perspectives and as the Director of Research and Development for the Northwestern Prison Education Program (NPEP). Her research has been supported by the Social Science Research Council, the American Society of Criminology, the Institute for Humane Studies, and Northwestern University.

Prior to Northwestern, Gabriela worked as a policy analyst for a research and evaluation nonprofit in Princeton, NJ. She graduated from the University of Pennsylvania with a bachelor's degree in Urban Studies.
Back to top