Jun Fang (Ph.D. 2021)
Northwestern University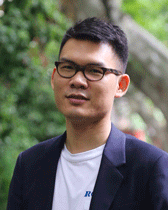 Area(s) of Interest
Culture, Creativity, Globalization, Organizations, Economic Sociology, Qualitative Methods, China
Current Research
Jun Fang is visiting assistant professor of sociology at Colby College. He received his Ph.D. in sociology from Northwestern University in fall 2021. As a cultural sociologist studying China's engagement with the West, he broadly addresses how the contrasting forces of nationalism and globalization shape processes of creative production. His current book project, titled When China Meets Hollywood: Global Collaboration and State Intervention in a Creative Industry, is an ethnography of how Chinese conglomerates and Hollywood studios co-produce films from script to screen. 
His research has been published in Poetics, Qualitative Sociology, Sociological Studies, and SAGE Research Methods Foundations, and has won fellowships from the Andrew W.  Mellon Foundation/American Council of Learned Societies, the Chiang Ching-kuo Foundation, the University of Chicago Ethnography Incubator, and Northwestern's Buffett Institute for Global Affairs. For more information, please visit his personal website.
Publications 
Jun Fang (Co-Editor, with Svetlana Kharchenkova). Special Issue of the Journal of Chinese Sociology: "Arts and Culture in East Asia." Forthcoming in 2022.
Jun Fang. 2020. "Tensions in Aesthetic Socialization: Negotiating Competence and Differentiation in Chinese Art Test Prep Schools." Poetics 79. https://doi.org/10.1016/j.poetic.2020.101443
Jun Fang and Gary Alan Fine. 2020. "Names and Selves: Transnational Identities and Self-Presentation among Elite Chinese International Students." Qualitative Sociology 43(4): 427-448.
Gary Alan Fine and Jun Fang. 2019. "Idioculture." In Paul Atkinson, Sara Delamont, Alexandru Cernat, Joseph W. Sakshaug, and Richard A. Williams (eds.), SAGE Research Methods Foundations. Thousand Oaks, CA: Sage.
Jun Fang. 2018. "The Visual Arts in the Chinese Middle-Class Home: Occupational Status Groups, Abstract Art, and Self-Presentation." Sociological Studies 5: 66-92.
Back to top