Rahardhika Utama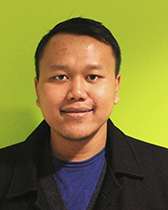 Advisor(s): Prasad
Entry Cohort: Fall 2014
Area(s) of Interest
Sociology of Development; Comparative and Historical Sociology; Ethnography; Global and Transnational Sociology; Inequality; Politics of Culture; Southeast Asia
Biography
Rahardhika Utama studies the sociology of development and comparative historical sociology. His dissertation, Embedded Peasantry and Economic Transformation in the Asian Rubber Belt, explains why some countries have seen miraculous economic growth while others have not. Sociologists of development who have examined this question largely focus on countries that do not have a large agrarian sector. However, most countries in the developing world are agrarian countries. Through in-depth comparative historical analysis of two similar countries in Southeast Asia, including interviews with 170 agricultural producers and development planners, 15 months of ethnography, and archival analysis in 20 archive centers worldwide, Utama argues that the answer to diverging development lies in the state-peasant relations shaped by geopolitical forces during industrialization. His papers have won the 2021 Hayward R. Alker Graduate Paper Award from the American Political Science Association and an honorable mention for the ASA Section on the Sociology of Development's Outstanding Graduate Student Paper Award 2020.
Selected Awards and Fellowships
The Hayward R. Alker Best Student Paper Award, Interpretive Methodologies and Methods, American Political Science Association, 2021.
Honorable Mention, Sociology of Development Outstanding Graduate Paper Award, American Sociological Association, 2021.
Global Impacts Graduate Fellowship Program, Buffett Institute for Global Affairs at Northwestern University, 2020.
American Indonesian Cultural and Educational Foundation Inc. (AICEF) Travel Research Grant, 2019.
Indonesia Endowment Fund for Education Scholarship from Ministry of Finance, the Republic of Indonesia, 2018.
Arryman Doctoral Research Grant, Equality Development and Globalization Studies at The Buffett Institute, Northwestern University, 2017.
Comparative Historical Social Science Research Grants, The Buffett Institute, Northwestern University, 2017.
The Henry Luce Foundation Pre-Dissertation Fellowship, Southeast Asia Research Group, 2016.
Back to top