Alumni
Letter from the Chair to Alumni
Sociology at Northwestern University remains the wonderful department that you remember. It is with good reason that we are renowned nationally and internationally. Northwestern sociology is a remarkably congenial place to study, work, learn, and conduct research. At the heart of the department is an atmosphere of collegiality, critical thinking, cooperation, and plain and simple kindness. These elements combine to create our magnificent, one-of-a-kind departmental culture.
Above all else, though, the department thrives because of people -- the staff, the students, and the faculty -- who make and remake this special environment. I want to thank all of the department alumni for the part they played and continue to play in sustaining this Northwestern Sociology culture.
Please know that we are working hard to keep Northwestern Sociology the special place that you remember.
— Laura Beth Nielsen
Alumni News:
Congratulations to Elijah Anderson (Ph.D. Northwestern '76) , who has won the 2018 W.E.B. DuBois Career of Distinguished Scholarship Award! The award honors scholars who have shown outstanding commitment to the profession of sociology and whose cumulative work has contributed in important ways to the advancement of the discipline. The body of lifetime work may include theoretical and/or methodological contributions. The award selection committee looks for work that substantially reorients the field in general or in a particular subfield.
Congratulations to "Crook County" by NU Sociology PhD Nicole Gonzalez Van Cleve won two 2017 Prose Awards, given by the Association of American Publishers! It won the Prose Award for "Excellence in the Social Sciences." It also took home a category award in the area of Law and Legal Studies!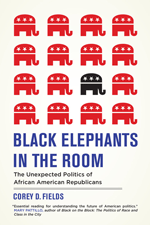 Congratulations to Corey Fields on his new book Black Elephants in the Room: The Unexpected Politics of African American Republicans, University of California Press (cover pictured above), which was reviewed in October 2016 in The New York Times Book Review.
Congratulations to Carla Shedd (pictured above), who has won the 2016 C Wright Mills Award from the Society for the Study of Social Problems for her book Unequal City: Race, Schools, and Perceptions of Injustice, Russell Sage Foundation.
Congratulations to Michaela DeSoucey, who has won the 2016 Distinguished Scholarly Publication Award, Consumers and Consumption Section of the American Sociological Association for her book Contested Tastes: Foie Gras and the Politics of Food, Princeton University Press
Congratulations to Jeff Kosbie, who has won a 2016 Honorable Mention for his dissertation from the Law and Society Association.
Congratulations to Ellen Berrey, who has won the 2016 book prize for LSA and the Book Prize for ASA's sociology of Law Section for her book The Enigma of Diversity: The Language of Race and the Limits of Racial Justice, The University of Chicago Press.
Alumni News: Department of Sociology Alumni Funds for Second-Year Paper Research
The Department of Sociology is pleased to announce the recipients of our newly established Alumni Funds for Second-Year Paper Research. This award was officially established in 2015 by the Department Chair and Director of Graduate Studies and is directly funded by continuous and new contributions from our alumni. Below are our award recipients' descriptions of their research.
Melike Arslan
"This research project is about the new bankruptcy laws in Turkey in relation to its political, economic and social changes. It specifically focuses on a legal institution called 'postponement of bankruptcy' which is increasingly used, discussed and criticized in Turkey. My aim is to unravel this interesting, multifaceted institution, to connect its development and implementations to more general trends and discovering the paradoxes in Turkish economic development through its lens."
Josh Basseches
"My second year paper examines the politics of enacting legislation to combat climate change, which requires a special focus on U.S. statehouses, where (unlike in the U.S. Congress) such legislative efforts have succeeded. Employing a novel research design, which is especially attentive to the multi-stage and dynamic nature of the legislative process, I examine the roles of state legislators, executive branch administrators, social movements, and a range of other interest groups. I am immensely grateful for the support of the Alumni Fund; this support has covered transportation-related expenses, enabling me to conduct in-person interviews with the relevant political actors."
Megan Bonham
"I used my funding to "try out" a potential research site for my dissertation about the dark sky movement. Not only did I learn about the organization, but I also gained insight about possible difficulties that might arise as I conduct ethnographic fieldwork in the physical context of darkness."
Kelli Brodbeck
"For my second year paper, I will be studying the occupation of campus policing through ethnography and in-depth interviews. Campus policing is an interesting occupation to examine because officers face both institutional and professional challenges. I will use my second-year paper funds for interview transcription services."
Miri Eliyahu
"My project focuses on job interviews in high-tech organizations. The project tries to answer the question of what attributes are valued in this setting and how this process differs for men and women. The company I study allowed me to take the data with me only with a secure transfer in their headquarters in Israel, so I used the alumni fund to fly to Israel and collect the data according to the organization's conditions."
Lantian Li
"My second year paper will unpack the morality of economic brokerage by examining the moralization process in a controversial legal case concerning transnational pharmaceutical brokerage in China, which was hotly contested and publicly debated for fifteen months. I travelled to China (Beijing and Wuxi) over the summer for data collection, including conducting interviews, collecting archives, and analyzing news articles. The funds were very helpful, and I used them to cover part of my travel expenses."
As always, we extend a heartfelt thanks to our alumni, whose generous support makes these funding initiatives possible.
The Sociology Department is now on Linked In
The purpose of this new Linked In group is to provide a place for current students, alumni, and friends of the Department of Sociology to connect and stay connected. To join our group click here.
Stay up to date with the latest news from the department and see what our students and faculty are up to.
Stay Connected to Northwestern
Back to top