Anthony S. Chen
Associate Professor of Sociology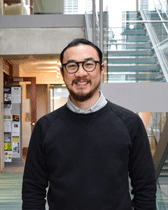 (847) 467-0515
1810 Chicago Avenue, Room 222
Office Hours: Mondays and Thursdays 2:00-3:30pm
Area(s) of Interest
American political development since the New Deal with a special focus on business-government relations, civil rights, and social policy
Biography
Anthony S. Chen is a political and historical sociologist. He is interested in the political development of public policy in the United States from the New Deal, and he has special interests in civil rights, social policy, and business-government relations. 
He is author of The Fifth Freedom (Princeton), which offers a new account of how and why affirmative action emerged in employment. In collaboration with Lisa M. Stulberg, he is completing a book on the origins and development of affirmative action in college admissions. His work has appeared in the American Journal of Sociology, Journal of American History, and Studies in American Political Development (SAPD). Chen recently stepped down as co-editor of SAPD. Along with Stephanie L. Mudge, he is series co-editor of Cambridge Studies in Historical Sociology, a new book series based at Cambridge University Press.
Chen received his BA from Rice University and his PhD in Sociology from the University of California, Berkeley, where he was a Soros Fellow and later a Robert Wood Johnson Scholar in Health Policy Research. Before joining the faculty at Northwestern, Chen was on the faculty for eight years at the University of Michigan. He lives in Chicago. 
Courses Taught
SOCIOL 110: Introduction to Sociology Syllabus
SOCIOL 309: Political Sociology
SOCIOL 398-1: Senior Research Seminar Syllabus
SOCIOL 476: Topics in Soc Analysis: Political Sociology
Books
The Fifth Freedom: Jobs, Politics, and Civil Rights in the United States, 1941-1972
Princeton University Press, 2009
Back to top