Gary Alan Fine
James E. Johnson Professor of Sociology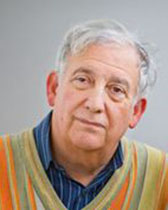 (847) 491-3495
1810 Chicago Avenue, Room 221
Office Hours: by appointment only
Area(s) of Interest
Cultural Sociology
Biography
Gary Alan Fine received his Ph. D. in Social Psychology from Harvard University and has received fellowships from the Guggenheim Foundation, the Russell Sage Foundation, the Rockefeller Foundation, the Center for Advanced Study in the Behavioral Sciences, and Institute for Advanced Study in Princeton.
Gary's current research has four distinct streams. He is interested in understanding difficult reputations and problematic collective memories of figures such as Joseph McCarthy, Charles Lindbergh, Warren Harding, and Benedict Arnold. This research was most recently published in Sticky Reputations: The Politics of Collective Memory in Midcentury America (2012). His current research involves shifting reputations and political positions of Southern segregationist politics and the examination of ruptures in political alliances.
As an ethnographer he has recently published a book (Players and Pawns) on worlds of competitive chess, examining the development of status systems and reputation markets. He currently has a book in press on how visual art students receive professional socialization, through identity work and presentations of aesthetic intentions. His current ethnographic project involves observations of senior citizen progressive activists and the way in which history and experiences shapes social movements.
His third stream of research involves the interpretation of rumor and contemporary legend, particularly political and economic rumor. Fine is the author of The Global Grapevine: Why Rumors of Terrorism, Immigration and Trade Matter (2010).
Finally, he writes on microsociological theory, focusing on small group culture, and has recently published Tiny Publics: A Theory of Group Culture and Action (2012). He is currently working on a book, The Hinge, about the role of small groups in civil society.
Courses Taught
SOCIOL 101: Freshman Seminar: Scandal and Reputations Syllabus
SOCIOL 403: Field Methods of Social Research Syllabus
SOCIOL 476: Special Topics: Collective Memory Syllabus
SOCIOL 476: Special Topics: Microsociology Syllabus
Books
Symbols, Selves, and Social Reality
(with Kent L. Sandstrom, Kathryn J. Lively, Daniel D. Martin)
Oxford Univeristy Press, 2013
Tiny Publics: A Theory of Group Culture and Action
New York: Russell Sage Foundation, 2012
Sticky Reputations: The Politics of Collective Memory in Midcentury America
Routledge, 2012
Authors of the Storm: Meteorology and the Culture of Prediction
Chicago Press, 2010
Everyday Genius: Self-Taught
Chicago Press, 2004
Whispers on the Color Line: Rumor and Race in America
(with Patricia Turner), Chicago Press, 2004
Gifted Tongues: High School Debate and Adolescent Culture
Princeton Press, 2001
Morel Tales: The Culture of Mushrooming
Harvard Press, 1998
Kitchens: The Culture of Restaurant Work
California Press, 1996
Publications
The Politics of Expertise in the "Who Lost China?" Debate
(with Bin Xu), Social Problems, Vol. 58, No. 4 (November 2011), pp. 593-614
The Sociology of the Local: Action and its Publics
Sociological Theory, 2010
DUST: A Study in Sociological Miniaturism
With Tim Hallett; Social Psychology, 2008
The Chaining of Social Problems: Solutions and Unintended Consequences in the Age of Betrayal
Social Problems, 2006
Tiny Publics: Small Groups and Civil Society
With Brooke Harrington; Sciological Theory, 2004
Opening the "Black" Box: Small Groups and Twenty-First-Century Sociology
With Brooke Harrington; Social Psychology, 2000
Back to top