Laura Beth Nielsen
Professor of Sociology on leave AY 23-24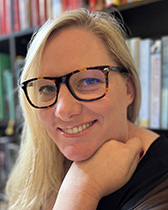 (847) 491-3718
1808 Chicago Avenue, Room 107
Office Hours: by appointment only
Area(s) of Interest
Sociology of Law, Inequality, Gender, Race
Relevant Link
Biography
Laura Beth Nielsen is a Research Professor at the American Bar Foundation as well as a Professor of Sociology and Director of the Center for Legal Studies at Northwestern University. She is a sociologist and lawyer with degrees from the University of California, Berkeley.
Professor Nielsen's research focuses on law's capacity for social change.  Her primary field is the sociology of law, with particular interests in legal consciousness (how ordinary people understand the law) and the relationship between law and inequalities of race, gender, and class. Her first monograph, License to Harass: Law, Hierarchy, and Offensive Public Speech, (Princeton University Press, 2004) studies racist and sexist street speech, targets' reactions and responses to it, and attitudes about using law to deal with such speech.
In addition, she is the author of numerous articles published in the UCLA Law Review, Law and Society Review, Law and Social Inquiry, Law and Policy, Stanford Journal of Law and Policy, and the Wisconsin Law Review.  She is also the recipient of grants and awards from the National Science Foundation, the Ford Foundation, the Center for Advanced Study in the Behavioral Sciences at Stanford University, and the MacArthur Foundation.
Professor Nielsen is an expert in the areas of sexual harassment in the workplace and beyond, employment civil rights of all sorts including pregnancy, pay, race, sex, national origin, and is a scholar of the legal profession.
Courses Taught
SOCIOL 206: Law and Society Syllabus
Books
Rights on Trial: How Workplace Discrimination Law Perpetuates Inequality
(with Ellen C. Berrey and Robert L. Nelson), University of Chicago Press, 2017
* Honorable Mention, Best Book 2018, American Sociological Association Sociology of Law Section
Theoretical and Empirical Studies of Rights
Ashgate, 2007
Handbook of Employment Discrimination Research: Rights and Realities
(with Robert L. Nelson), Springer, 2005
New Civil Rights Research: A Constitutive Approach
(with Fleury-Steiner), Ashgate, 2006
Publications
The Exonerating guise of Brotherhood: Fraternities and the Normalization of Intra-Fraternal Sexual Violence
(with David Fishman and Sino Esthappan), Men and Masculinities, 2022
Misunderstanding Law: Title IX Policy, Managerialized Rights, and Undergraduate Understanding
(with Kat Albrecht and Lydia Wuorinen) Educational Evaluation and Policy Analysis, 2022
Hierarchies of Deservingness: Decisions about Workplace Accommodation by Judges and Citizens
(with Jill D. Weinberg), Law & Policy, 2019
Social Movements, Social Processes: A Response to Gerald Rosenberg
Law Review, 2009
Diverging Paths: Changing Conceptions of Employment Discrimination in Law and the Social Sciences
(with Robert L. Nelson and Ellen C. Berrey), Law and Social Science, 2008
Consent to Sex: The Liberal Paradigm Reformulated
(with Arthur Stinchcombe), Blackwell Publishing Ltd., 2008