Wendy Griswold
Professor of Sociology Emerita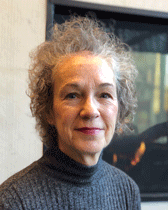 Office Hours: by appointment only
Area(s) of Interest
Cultural Sociology, Comparative Sociology of Reading & Literature, Urban Representations, African Cultures
Biography
Wendy Griswold, Professor of Sociology and Bergen Evans Professor in the Humanities, holds a Ph.D. in Sociology from Harvard and a Master's Degree in English from Duke. She has previously taught at Harvard and at the University of Chicago. She has been a visiting professor at the University of Oslo, Norway, and at IMT Lucca, Italy, and she is on the academic boards for the cultural sociology programs at Erasmus University, Rotterdam, The Netherlands and Cattolica University, Milan, Italy. She has been a Jean Monnet Fellow at the European University Institute, a Guggenheim Fellow, a Member of the Institute for Advanced Study, Princeton; for the 2017-18 academic year she is a Fellow at the National Humanities Center. At Northwestern she is affiliated with Comparative Literary Studies, English, the Program of African Studies, and Media, Technology and Society in the School of Communications.  She is currently the Interim Director for the Program of African Studies.
Professor Griswold is currently doing the following: (1) writing a book on American cultural regionalism, the third volume of a trilogy on culture and place, with a focus on the Mississippi Delta; (2) working on a comparative study of the reading practices of educated youth in twelve countries;  (3) organizing a research symposium on "Global and Local Strategies of Twenty-First Century African Artists"; and (4) studying the changing images of Saint Jerome over a thousand years of European art.
Professor Griswold directs the Culture and Society Workshop.
Courses Taught
Soc 101: Freshman Seminar:  African American Novels Syllabus
Soc 101: Freshman Seminar: Animals and Society Syllabus
Soc 406-1: Classical Theory in Sociological Analysis Syllabus
Soc 420: Sociology of Culture Syllabus
Soc 476: Special Topics: Research Methods for the Sociology of Culture Syllabus
Soc 576: Workshop Culture and Society Syllabus
Books
American Guides: The Federal Writers' Project and the Casting of American Culture 
University of Chicago Press, 2016
Cultures and Societies in a Changing World - 4th Edition
Pine Forge, 2012
Regionalism and the Reading Class
University of Chicago Press and Princeton University Press, 2008
Bearing Witness: Readers, Writers, and the Novel in Nigeria
University of Chicago Press and Princeton University Press, 2000
Renaissance Revivals: Revenge Tragedy and City Comedy in the London Theatre, 1576 - 1980.
University of Chicago Press, 1986
Publications
"The Outsider's Edge: Geography, Gender, and Sexuality in the Local Color Movement"
With Anna Michelson
Sociological Forum, Vol. 35, No. 3, September 2020

"Across Borders" Chapter in Further Reading, Matthew Rubery and Leah Price eds
Oxford University Press 2019
"Evangelists of culture: One Book programs and the agents who define literature, shape tastes, and reproduce regionalism"
With Hannah Wohl
Poetics 50 (2015) 96-109
"Objects, Words, and Bodies in Space: Bringing Materiality into Cultural Analysis"
With Gemma Mangione and Terence E. McDonnell
Qualitative Sociology 2013
"The Kano Durbar: Political Aesthetics in the Bowel of the Elephant"
With Muhammed Bhadmus.
American Journal of Cultural Sociology 2013
Reading and the Reading Class in the Twenty-First Century
(with Terry McDonnell and Nathan Wright),
Handbook of Media Audiences; Blackwell Publishing Ltd. 2011
Glamour and Honor: Going Online and Reading in West African Culture
 (with Erin Metz McDonnell and Terence McDonnell),
 Information Technologies & International Development, 2006
Cowbirds, Locals, and the Dynamic Endurance of Regionalism
(with Nathan Wright)
AJS Volume 109 No. 6: pp. 1411-51, 2004
Wired and Well Read
(with Nathan Wright), Society Online:The Internet in Context; Sage Publications, 2004
Back to top