Nicholas Bascuñan-Wiley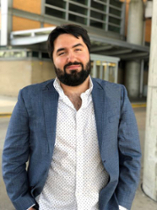 Advisor(s): Carrillo
Entry Cohort: Fall 2017
Area(s) of Interest
Globalization, transnationalism, migration, culture, sensation, food
Current Research 
Bread and Belonging: Migrant Everydayness in Middle Eastern Bakeries of the Americas
In an effort to center the embodied nature of human movement, my dissertation project addresses the question: what does migration feel like? I use ethnographic and interview-based inquiry within diasporic Middle Eastern bakeries in the American Midwest and Santiago, Chile to examine the felt (sensorial and affective) experiences of everyday migrant belonging and mobility.
Publications 
Bascuñan-Wiley, N. E. (2021) Migration and the Senses. Sociology Compass, 15(3), 1-16.
Miller, M., Bascuñan-Wiley, N. E., and Busse-Cárdenas, E. (2020). Families and Migration in the 21st Century. In Tanja Bastia and Ronald Skeldon (Eds.), Routledge Handbook of Migration and Development, 191-200.
Bascuñan-Wiley, N. E. (2019). Sumud and Food: Remembering Palestine through Cuisine in Chile. Mashriq & Mahjar: Journal of Middle East and North African Migration Studies, 6(2), 100-131.
Back to top