Khoa Phan Howard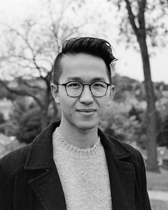 Advisor(s): Prasad
Entry Cohort: Fall 2020
Area(s) of Interest
Family, Migration, Culture, Race and Ethnicity, Gender and Sexuality, Asian Americans and Vietnamese Diaspora
Biography
Khoa Phan Howard is a PhD student in Sociology at Northwestern University, a Mellon Fellow in Gender and Sexuality Studies and a Center for Legal Studies Fellow. Prior to Northwestern, he earned B.A. degrees in Sociology and English at The University of Chicago. His research broadly focuses on intimate relationships - how social institutions of different scales shape them, and how people make sense of them within and beyond these institutions.
His current master's project investigates the processes in which different migration contexts shape people's cultural ideas and values about family, and subsequently their everyday family practices such as household labor and caregiving. He is conducting interviews of Vietnamese American families in the Bay Area, California. This research is situated in sociological fields of culture, family, international migration, Asian American Studies, and the Vietnamese diaspora.
His previous research analyzed the intersection of racial and sexual dynamics in a friendship organization of gay Asian men and gay White men. This project was published on Social Problems, and the paper received the American Sociological Association (ASA) Section on Sexualities Best Graduate Paper Award.
Publications
Phan Howard, Khoa. 2021. "The Creepy White Guy and the Helpless Asian: How Sexual Racism Persists in a Gay Interracial Friendship Group." Social Problems (spab052). doi: 10.1093/socpro/spab052.